Over the weekend, I heard a series of stories on NPR about Andrew Wyeth, a remarkable American painter. The stories were fascinating, but I couldn't recall having seen any of his work. As it turns out, I have one of his prints – rolled up in its protective tube, as I've never had the money to properly frame it. Wendy gave me this for Christmas a long time ago:
I love this print so much… the light, the muted colors…  the content dog. I really should get that framed up and hung in my sewing room. There's a realism to his work… clearly, they're paintings, but it's so easy to slip into the perspective and place oneself in the moment of the painting, in its environment.
Googling for other images, I am truly sorry not to have become more familiar with his work until now. There are some artists who find a magical way to portray natural light. Andrew Wyeth is one of those rare talents – just look at these:
I love the movement of the cobweb-thin curtains.
Sycamore trees are among my favorite things; what a nice spot this must have been.
Another of my favorite painters of light is Steven Hanks: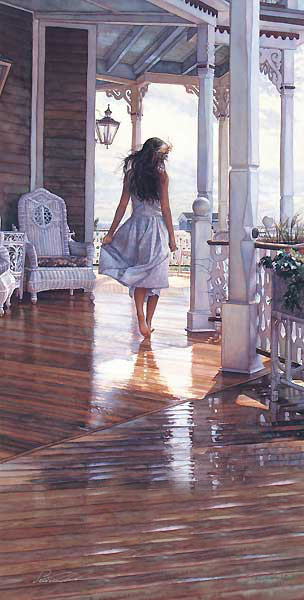 Art is one of those things I love, but haven't made much time for in the last 12 or so years. When I worked in a small art gallery in 1995ish, I absorbed all the new catalogues and pieces coming in, reveled in framing them up with mats and filets that would really bring out the accent colors. The gallery was located in a mall, though, so there were the requisite awful pieces for mass consumption, as well as the sublime. I spent a small fortune collecting prints, most of which I later had to sell, some of which were lost when my storage unit was pillaged. I have precious few left, alas. Among the ones I lost which pain me is "The Patriarch" from John Banovich:
I'll leave off this post with another of my favoite artists, Carl Brender, who often paints his animals' fur with a single-haired brush. Some of his pieces are difficult to distinguish from a photograph – honestly, this really is a painting:
I suppose one could debate the merits of whether or not a painting should look just like a photo, but the underlying talent is remarkable.
There are so many things to love and appreciate in life – I should start getting out of the house more often.
Posts at least a little bit like this one:
No related posts found. Perhaps try the search bar?